General description:
Bombus muscorum is a medium-little size species. 
Females: 17-19 mm.
Males: 13-15 mm.
Yellow coloration, some orange tergites. Yellow head, orange thorax and sometimes orange T2.  T6 can have gray or black pubescence. very long hair.
Biology: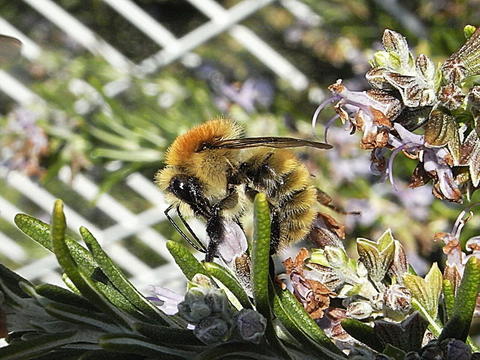 Conservation status:
It has not been evaluated.
Diagnostic description:
Females: elongated head, malar space like distal width. malar space has pits of various sizes close together.Labral tuber prominent and highly sculptured. Labral groove shallow, widened at the base.Mat labral sheet, with the sharp edge.Prominent and finely rated clypeus. Apical impression  well delimited. Front, under the ocelli very dotted, especially under the lateral ocelli. Distance from a lateral ocellus to preoccipital edge distance greater than the distance from that ocellus to eye on that side. On hind legs, no reticulated tibia, with posterodistal angle well developed. Basitarsus with short hairs and few. Sides of T2 and T3 with a characteristic microsculpture.
Genitalia: wide ting's case's external projections, especially in the middle, and wide and elongated internal projections.
Males: elongated head, malar space longer than its distal width, like A2+3. Malar space with a thin and sparse dotted. Antennal flagellomeres from A5 to the end, symmetrically thickened at the bottom. Long and thick  mandibular beard. Middle basitarsus with parallel sides. On hind legs, convex, bright and hairless tibia; basitarsus with the posterodistal angle acute. The distal edge of E8 id straight.
Genitalia:hook-shaped, divergent sagittae, smooth in the lower region. underdeveloped stipes' apex on the inner zone.Escuamas as c
and protracted in a long, sharp training. Wide volselas, hairy on the inside face with a subapical  triangular.tooth,
Distribution:
Eurosiberian, with 5 or 6 populations. In the Iberian Peninsula is in the northern half. Isolated presence in more southern points. 
410-1800 m.
Potential distribution map at the present time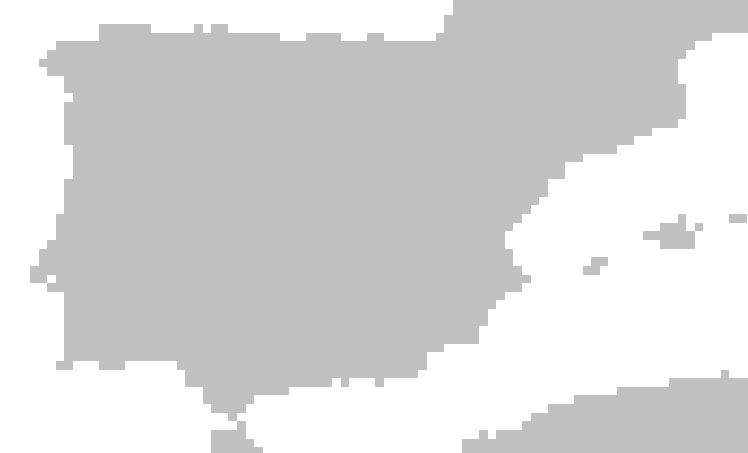 Potential distribution map in 2050 with the same level of pollution emission and the climate changes consequence of these contamination levels

Map legend
Maps are made with GBIF data of this specie in Iberian Peninsula
Ecology:
Queens output in April.
Nest among the vegetation, surface.
Flight period: April-October/November
Bombus muscorum has been collected in Boraginaceae, Rosaceae, Fabaceae, Asteraceae, Malvaceae, Lamiaceae, Ericaceae.
Habitat:
Biotopes: wet areas, fields and meadows, forests, orchards and gardens.