General description:
Bombus soroeensis is a small size bumblebee: 15-18 mm in females, 12-15 mm in males.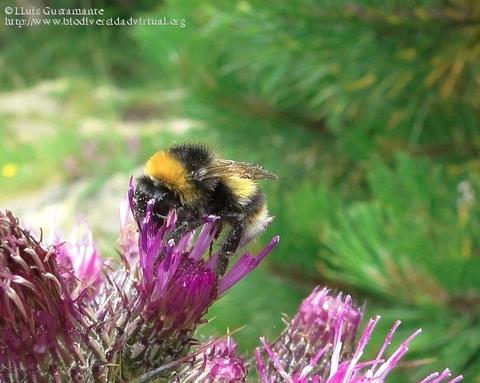 Diagnostic description:
Females: small size (15-18 mm). Short head, slightly longer than wide. Malar gap short, transverse, longer than A3 but shorter than A2+3. The labrum's tubercles are flattened and slightly prominent, so the labrum's groove results in a shallow and narrow one. Short clypeus, whose length barely reaches its distal width; convex and densely dotted. Apical prints well defined and separated, provided with pits from different sizes. Forehead provided with a thin and intense stipple, with shiny areas, without relief, small but well defined. Supraorbital line secant to the ocellus, which are almost in a straight line. A3 shorter than A4+5. In the hind legs, the tibia is weakly crosslinked; the basitarsus with isolated pubescence, without long chaetas. T6 slightly prominent just before the distal thickening.
The genitalia show the external projections of the sting's case wide, while the internal projections dilate progressively until the middle zone, where they reach their maximum breadth.
Males: small size (12-15 mm). Short head, as long as wide. Jaws provided with long and very dense beard. Square malar gap, like A2+3. Long antenna; A3 shorter than A4 and slightly longer than A5. The scourge length is around 5,5 mm. Middle basitarsus is narrow. The hind legs show a convex tibia; the basitarsus, narrow at the base. E7 slightly thickened at the dorsal side. Elongated E8 concave in its end.
The genitalia is long. The sagittae are narrow, long, provided with a tooth and rearward. Long and kidney shaped scales.
The coloration is both in female and male relatively to the subspecies.
Distribution:
Bombus soroeensis is present, and locally very common, in a large part of the West-Palaearctic region. It has been much published about. North, its range extends to the 70th parallel in Scandinavia and to the 60th in Russia. South, the species is present in the mountains of N. Spain, S.France, Italy and Balkan. West, it extends to the Atlantic coast in Norway, and in the Sierra de Ancares in Spain. It is absent from Ireland and from the Hebrides, but present throughout the British mainland. East, its range extends to the south of central Siberia (around Lake Baykal) and to Mongolia. South-east, in Anatolia, it includes the Taurus, the mountains in the north of the Hakkari province, the Caucasus and the mountains of N. Iran, except the Kopet-dag.
B. soroeensis includes several well differentiated subspecies that makes its identification sometimes tricky.
Potential distribution map at the present time

Potential distribution map in 2050 with the same level of pollution emission and the climate changes consequence of these contamination levels

Map legend
Maps are made with GBIF data of this specie in Iberian Peninsula