General description:
Bombus wurflenii includes seven subspecies distributed by the Western Palearctic realm, own the Caucasus and northwestern Anatolia. In our country there is only the subspecies ssp. pyrenaicus.
Medium-large size.
Females: 17-19mm.
Males: 13-15 mm.
Black head and vertex, and yellow collar, scutellum. Red gaster. Black pins.
Conservation status:
It has not been evaluated.
Diagnostic description:
Females: Short and wide head. Very convex jaw, with six curved teeth. Short and transvere malar space, finely stippled. The genas has a dorsal groove. Prominent labral tubers, pointy and very dotted. Deep and wide labral groove. Almost straight blade. The clypeus is short and wide, prominent adn convex, with discreet dotted at the disk. Ill-defined apical impressions, very sculpted. Acute middle basitarsus. On the hind legs, weakly crosslinked tibia and with hair only in the proximal third. Wide basitarsus. E6 intensely dotted.
Genitalia: external projections of the sting case are narrow, dorsally dilated. Internal projections are simple and slightly widened at the bottom.
Males: Short head, and transverse malar space. This malar space is covered by a short and yellow pubescence. Very pubescent jaws, with a long and dense beard, and with a dorsal tooth and two small central tooth  in the distal edge. Short, wide and prominent  clypeus, very dotted. Elongated middle basitarsus, with parallel sides and it is provided, in the posterior edge, of long setae. On the hind legs, slightly convex and hairless tibia, situated in distal position.  The basitarsus has the posterior dorsal edge sharp but not spiny. E6 slightly truncated and thickened at apex. Wide and truncated E6 without windows. Elongated and wide E8.
Genitalia:elongated and oval. Narrow and sickle sagittae, with a tooth on the lower region. Wide and long sickle. Long and convex stipes. Rounded escuamas, mitt shaped, grooved on the dorsal surface. Long volselas, with parallel sides and notched at apex.
Distribution:
Bombus wurflenii is a Western Palearctic species. It is a mountain species. In the Peninsula Iberica, is distributed by the Cordillera Cantabrica and the Pirineos.
1100-2000 m.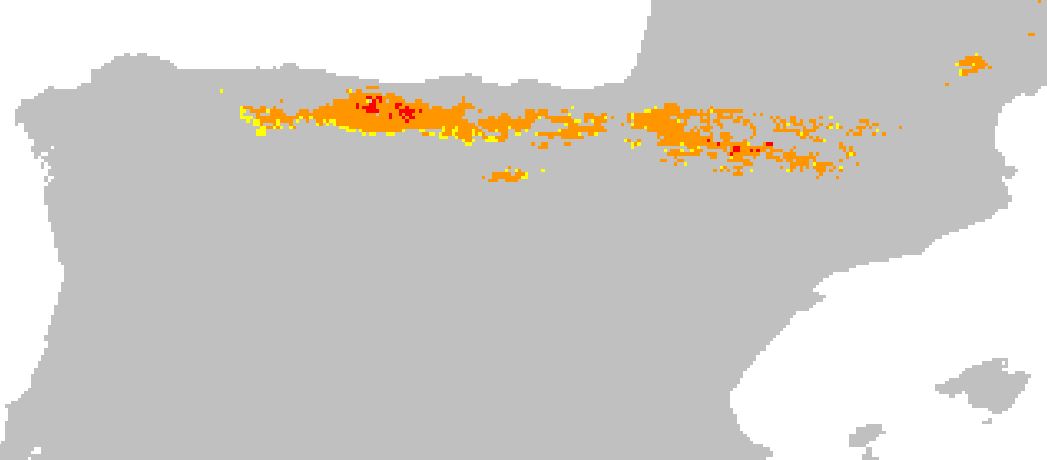 Potential distribution map at the present time

Potential distribution map in 2050 with the same level of pollution emission and the climate changes consequence of these contamination levels

Map legend
Maps are made with GBIF data of this specie in Iberian Peninsula
Ecology:
Queens output in May.
The nest is on the ground, among rocks or vegetation or in burrows.
Flight period: May - September.
It has been collected in Fabaceae, Lamiaceae, Ericaceae, Asteraceae, Boraginaceae and Escrophulariaceae.
Habitat:
Biotopes: meadows and legume pastures, heaths, roadsides and forest areas.